Is Catalog Marketing Worth the Investment?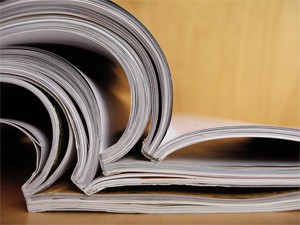 2015-07-15
When you think of the 1990's, what comes to mind? Perhaps the dreaded noise of dial-up Internet, learning to transition from a Floppy Disk to a CD-ROM, and the collection of company catalogs scattered across your coffee table. In 2015, however, dial-up has been replaced by WiFi and we've learned to store most of our important data in the cloud, so why exactly are companies still using the dated catalog technique?
In 2009, retail giant, J.C. Penney addressed this question by discontinuing their 1,000-page catalog alongside phasing out several of their smaller specialty catalogs. After a five-year hiatus, they decided to bring all catalog mailings back. Why? According to J.C. Penney spokeswoman, Kate Coultas, catalogs still serve a purpose, even more so in the digital age.
Email vs Direct Mail
When is the last time you opened your email inbox, saw an email with the subject of "25% Off This Weekend Only!" and actually opened it up BEFORE deleting? According to a study conducted by the Chief Marketing Officer Council, the response rate for direct mail to an existing customer averages 3.4% compared to 0.12% for email. It's easy to swipe right to delete an email; it's harder to throw away a perfectly good catalog.
Production Costs
According to the American Catalog Mailers Association, the average catalog costs $1 to produce. Dependent upon the quantity you mail, it can be a costly investment. But, Polly Wong, managing partner with the direct marketing agency Belardi/Ostroy, states the return on investment can bring $2 for every prospective customer and $10 for every returning customer.
By deciding to file a name amendment, rather than filing an entirely new company, you are able to keep the history that is connected to your initial filing, which means that all of your assets will remain in the same hands; all of your contracts will remain in force; all liabilities, accounting, and tax records will remain the same. In effect, your business name will change, but everything else you worked so hard to set up will remain the same.
The Experience
If there's one thing ecommerce can't give you, it is the experience consumers have when picking up a freshly printed and visually pleasing catalog. Using high quality print pieces filled with compelling stories, celebrity endorsers, and photos depicting luxurious lifestyles are excellent ways to spark customer/reader interest.
Take Dwell Magazine, for example. Dwell offers high-end household items for the modern-day homeowner. Featured on the cover of every issue is a photo of beautiful contemporary architecture with breathtaking scenery in the background. The cover alone is enough to entice a prospect to open and browse through the issue, potentially resulting in a future purchase.
Are They Worth the Investment?
The Internet is a noisy place with plenty of distractions. From popup ads, social media, and email notifications, it's easy for a consumer to leave the website they're browsing to accomplish another task. While browsing a catalog, however, they're less likely to encounter these distractions. And if they do get distracted, the tangibility allows them to simply mark the page they're on and return to it later.
Bruce Cohen, a retail private equity strategist, indicates that, although 44 percent of consumers would like to receive fewer catalogs, 58 percent of online shoppers said they get their ideas from browsing catalogs; and nearly a third said they have the retailer's catalog on hand when making an online purchase.
Some specialty retailers, such as Anthropologie, J.Crew, and Restoration Hardware are realizing these benefits and are beginning to launch new catalogs, while others are focusing on revamping their existing print material. Even digital retailers, such as Birchbox, a beauty subscription service, have started mailing catalogs. According to the Direct Marketing Association (DMA), direct mail has the highest rate of success in new customer acquisition at 34 percent compared with other marketing channels.
Although catalog marketing can seem like a prehistoric concept, depending on your budget and market demographic, it just might be worth the investment. Catalog marketing can be an invaluable tool used to facilitate online transactions alongside keeping your customers interested and engaged for an extended period of time.
Resources:
CMOCouncil
Why the Print Catalog is Back in Style
Disclaimer: This information is made available by MyLLC.com, Inc. (the "Company"), and is intended for educational purposes only, and it is not legal or tax advice. No action should be taken in reliance on any information in or on this site without verification with legal or tax counsel, after review of the facts and current law, that the action to be taken is appropriate under the circumstance. Except as expressly provided to the contrary in writing by the Company, the materials contained on this site are provided on an "as-is" basis without warranties of any kind, either express or implied. Company disclaims all other warranties, express or implied, including, without limitation, implied warranties of merchantability, fitness for a particular purpose, title and non-infringement as to the information, content and materials on and in the site. Company does not represent or warrant that materials on and in the site are accurate, complete, reliable, current or error-free.