Workplace Romance - Kiss Your Job Goodbye?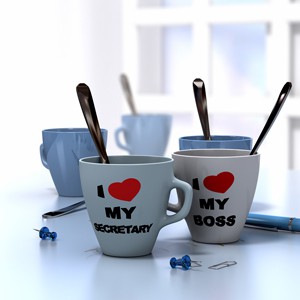 Whether a tryst, a fling, or a full-blown relationship, workplace romances can be riddled by drama and rife with complications. At first, the allure of becoming intimate with a co-worker may seem natural and exhilarating, or even electric and taboo! Taking fraternization to another level, however, can negatively impact the office climate in many ways. Companies and employees should be on par with one another about work policy, so as to maintain professional integrity, productivity, and overall morale. Employees, especially, should consider the short and long term ramifications of an office love affair or risk jeopardizing their own professional fate.
It's Human Nature
It does happen, yes. In fact, office romances are rather prevalent. Vault.com reported in 2011 over a 7-year survey that 59% of employees had at least once in their career dated a colleague. When you consider how much time an individual spends at work on average (practically speaking about 1/3 or more of one's adult life), it's no wonder coworkers have a lot of opportunity to become attracted to one another.

Shared tasks, interests, education, and experiences are typical ways by which people establish friendships and special bonds. And working in close proximity often spurs on personal disclosure-discussing problems at home, sharing about struggles and aspirations, and building admiration and affinity. Once this level of trust has been established the lines between professional and personal lives can begin to blur. Besides proximity, it may seem a bit more "safe" to date a coworker with some similarities versus mingling with strangers at social hot spots. Dating a co-worker might seem natural, accessible, or safe, but is it wise? According to a 2013 study by the Society for HR Management, 42% of U.S. employers have a policy in tact prohibiting workplace relationships. It behooves businesses to appropriately train employees on the implications of office romance and to hold them accountable. Likewise, employees should be wary of pitfalls.
The Downside
More and more companies recognize that on a base level, workplace romances can impede productivity. In the early exciting phases of new love, employees may find themselves more inclined to take longer breaks with one another, talk or text more, or be distracted in general by visiting on company time. On the other hand, if a work couple is fighting, that can also distract one's focus and lessen performance. Furthermore, relationships like these can bring on gossip or jealousy and upset the work climate, or even erode one's reputation. Any public display of affection may make other employees uncomfortable and create tension. And should a romance like this end, the couple may feel awkward about doing certain tasks or be inclined to avoid what may even be necessary communication. On the other end of the spectrum, a soured relationship may spur revenge, hostility, and even violence.
Power Play
Complications can surely escalate when an office romance is between a superior and a subordinate. Other employees may perceive favoritism. For example, getting scheduling perks like optimal shifts or extra time off, receiving prime work assignments, relaxed responsibilities, or even promotions and raises, are plausible. It can open the door to questions of discrimination, if other qualified employees are passed up over an undeserving candidate.

Beyond favoritism and discrimination, this power play can lead to sexual harassment. Even if a subordinate isn't really "into" a superior's overtures or advances, he/she may feel pressured into accepting invitations, fearing negative repercussions at work. Moreover, inappropriate remarks or unwanted passes can lead to an uncomfortable, even hostile, work environment resulting in possible legal action. On the flip side, "predatory" subordinates may seek opportunity to "set up" a superior, falsifying the appearance of impropriety for professional or personal gain; these are ripe conditions for professional sabotage, blackmail, and again lawsuits.


Bottom Line: There are some happy endings to the story of office romance: the mentor/protégée dynamic and others employee relationships may from time to time lead to wedding bells. That is a tale infrequently told, however. More often than not, a workplace relationship can be a slippery slope that funnels into lessened productivity, dampened office morale, discrimination, harassment, professional sabotage, or even physical aggression and legal action. Companies must clearly define fraternization policies, investigate grievances timely, and enforce corrective action when necessary to ultimately uphold a thriving, professional atmosphere for all. Employees, too, must be conscientious of their conduct and propriety. While it may seem sexy to some to have a secret rendezvous in the copy room, or flattering to accept an advance from the boss, it is most prudent to think about where it all may lead.
* If you have difficulties using the order form on your smartphone, try turning your phone sideways for a wider display.