Small Business Health Insurance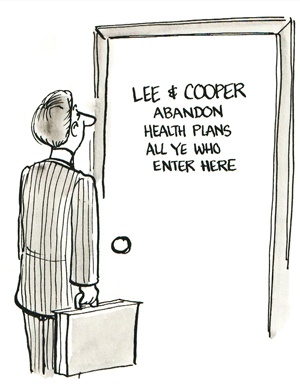 Getting sick is a major bummer for everyone. But when you are a W-2 employee and you wake up with those dreaded fever, chills, body aches as well as the rest of the telltale signs that you indeed have the flu that queasiness in your stomach may be caused from having to decide whether you are sick enough to call in sick. Assuming you have a very limited number of sick days, the decision to miss work or suffer through a miserable workday is enough to make that aching head start to spin as well. Then of course, if you do decided to go to work sick, you run the risk getting your co-workers sick as well and all because you can't afford to miss another day of work. Why? At an alarming rate, many employers are risking the health of their business by cutting employee hours to just fewer than 40 a week so they don't have to pay for health insurance which is now a requirement instituted by the Affordable Car Act for full-time employees. While it might be too early to give an accurate prognosis, only time will tell as to whether or not the change will improve the health of business across the board or will the diagnosis prove to be terminal for everyone involved.
With the many financial obstacles small businesses face, the high cost of providing full-time employees' health insurance just isn't an expense they can suddenly incur. The challenge of trying to survive in a rocky economy is especially detrimental and frustrating for an employer who is surrounded by unapologetically hostile employees whose hours have been cut to avoid qualifying for healthcare. Even when left with no other option if they wish to keep their doors open for business at all, the end result actually is ending up becoming negative prognosis and most critically, it certainly doesn't create a healthy culture within the scope of your business. This issue needs to be resolved STAT.
A History Check-Up:
The share of small companies providing insurance plummeted from 47% to 38% between the years 2000 and 2011, according to a report from the Robert Wood Johnson Foundation. The proportion of all companies offering insurance slid from 59% to 52%, annual premiums paid by individuals doubled from $2,490 to $5,081, and family premiums skyrocketed at an astronomical rate from $6,415 to $14,447. As a result, fewer companies are offering health insurance, and fewer employees are taking it. In total, 11 million people lost insurance during an 11-year period. The number of people whose work provided insurance dropped from 170 million to 159 million.
Then in January of 2014, The Affordable Healthcare Act was enacted. For some, it has literally been a lifesaver but for others, it has only made a bad situation even worse. And the situation is as complicated as trying to read and understand the bill that was passed in the first place. Wherever you fall in that spectrum, the one constant that remains is that everyone has been affected in one way or another. Physicians took a 43% pay cut across the board as Medicare reimbursement rates plummeted and private insurance companies followed suit. Scheduling appointments became an even bigger struggle as people tried to determine if in fact they could or couldn't keep their doctor, which now seems will remain a question for the ages. Wait times in physicians offices and ER's increased, as did the complaints. However, the pharmaceutical companies as well as the hospitals are without question benefiting greatly from the new healthcare laws. But how has the new laws effected business owners and their bottom line?
The Future of Healthcare in the Workplace:
According Kaiser Health News, "Starting in 2016 - a two year delay from the previous date of 2014, businesses with 50 to 99 employees that don't provide insurance and have at least one full-time worker who receives subsidized coverage in the health insurance exchange will have to pay a fee of $2,000 per full-time employee. The firm's first 30 workers would be excluded from the fee. In addition, if you own a small business and purchase insurance through a health exchange, the health law offers a tax credit to help cover the cost. Employers with fewer than 25 full-time workers who earn an average yearly salary of $50,000 or less can qualify.
Employers must pay at least 50% of the individual worker's premium cost to get the credit. Small business owners can purchase coverage on the Small Business Health Options Program, also known as the "SHOP." They have concluded that small companies looking to offer healthcare to employees are doing a lot of "Brake checking" in recent years and just like on the freeway, it causes bottlenecks in business and personal lives too."
The vital role small businesses play in the economic growth of America is undeniable. The fact that people get sick and their children get sick doesn't change the prognosis, though it should. Does the necessity justify the cost? Maybe there is a magic pill to keep the wheels of small business healthy and turning in spite of the rapid and costly changes. I'm glad I don't have to write that prescription.
Bottom Line:
As the saying goes, "A pound of prevention is worth an ounce of cure". Do your best to prevent the headache of getting sick to begin with. But should those nasty germs start bringing you down, take a deep, wheezy breath and know that eventually this too shall pass.