From Micro to Macro: A Look at Differing Managerial Styles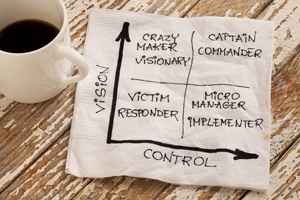 Management skills are necessary in nearly every aspect of our lives, so it comes as no surprise that the ability to manage well is crucial to running a successful business. The two most common management styles are often referred to as micro-management and macro-management. While one may be more effective depending on your business and industry, both styles have their benefits and downsides.
Micro-Management
The strict definition of micro-management is when a manager assumes an active role in managing the affairs of his/her business while closely monitoring and frequently requiring employees to report on progress. Micro-management is often used as a derogatory term, and these types of managers are usually stereotyped as controlling and judgmental. They are often viewed as being overly critical of every detail of a project, causing employees to lose motivation and to even feel resentful.
However, micro-management can be an invaluable tool when starting a business and training new employees. When a business first opens, the manager is responsible for establishing all procedures and protocols. This may include an array of duties, such as choosing an appropriate location, purchasing essential office supplies, hiring employees and a myriad of other responsibilities.
Macro-Management
By definition, macro-managers allow employees do to their jobs with minimal supervision. These types of managers act as general overseers, deciding what needs to be done while delegating responsibilities to employees and setting the overall goals. These types of managers heavily rely on their employees to complete projects on their own and contribute very little to day-to-day tasks. Macro-management is often considered to be more effective for employees higher up in a company, as these managers spend far less time on the day-to-day operations and focus on business development and strategy instead.
One problem with this style is that if a problem arises, a macro-manager runs the risk of not knowing there is a problem until it becomes serious, resulting in missed deadlines, additional expenses and even legal issues. In fact, macro-managers can be less successful in terms of business results and effectiveness than micro-managers. Macro-managers are far less inclined to complain or even discuss scenarios that would imply a lack of upper level oversight that might prompt their absentee bosses/managers to spend more time hovering over them while critiquing their every move. Employees who work for macro-managers are far less inclined to complain or even discuss such issues.
Thus, the micro and macro perspectives of management are quite different, but they are equally important in their own way. The relative effectiveness of each type of management style depends on many factors, including the nature of the business model, the maturity of the employees, and the complexity of the project in relationship to the experience of the team. The challenge is for managers to recognize which style of management is appropriate and necessary for each employee as well as for the team as a whole. Additionally, their style of management should be consistently changing and evolving along with their employees.
In situations where micro-management is the best course of action, managers' long-term objectives should be to encourage employees and teams to become more independent. After all, good leaders are recognized for their ability to train the next level of leaders, as one manager can't always be everywhere at once and is only as good as his/her team. However, when starting a new company or project with an inexperienced team, it is wise for the manager to closely monitor the initial work to make sure that everyone is on track. Gradually, after training and establishing firm procedures and best practices, team members should begin to do things on their own. Most employees prefer to work independently and the trick is finding the right amount of guidance to accompany this freedom. Problems tend to arise when managers continue to closely control employees' activities instead of progressively allowing them to self-manage. This in turn impacts employee and company morale and will eventually affect everyone's work output. In addition, the manager also loses because he/she is spending so much time managing the employees that there is very little time for business development, strategy and growth.
Every leader faces the challenge of developing and managing a cohesive, efficient and productive team. Finding the right employees to hire is half the battle, knowing how to manage them is the other half. The ability to adjust your management style to fit the needs of the team is of great importance and therefore great management involves elements of both micro-management and macro-management.
Bottom line: A good manager knows when to monitor employees closely and when to the let them fly un-tethered.