Delegating & Outsourcing: Smart Ways to Get the Job Done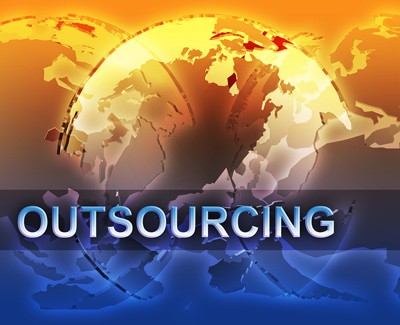 Starting your own business can be a stressful, time-consuming, and highly rewarding process. Once you've gotten to the point of hiring employees for your company, you'll need to think about delegating certain tasks in order to encourage further growth and development of your business. Having the ability to delegate tasks in an efficient manner will further the growth of your company, and it will improve your ability to lead your employees.
While it's easy to say, "It will be quicker for me to do it myself rather than explain it to someone else," this approach will not get you very far in the long run. Not only do you not have time to complete small tasks that your employees could accomplish, you need to remember that by delegating tasks that are small but important, you're demonstrating that you trust them to get the job done correctly. This is important in creating a happy, efficient, and productive staff. While giving up control is definitely not an easy task, it will be an invaluable skill for you to develop. Use the tips and tricks below in order to become more effective at delegating the tasks that will start to accumulate as your business continues to grow and becomes more successful:
First and foremost, you'll need to determine which tasks can (and should) be delegated. After all, there are some responsibilities that should fall solely on your shoulders, as it's your company and you know the ins and outs better than everyone else. You also have (or should have) a clear vision of the company's future, and because you're the final decision-maker, sometimes it's more efficient for you to complete the task yourself. On the other hand, there are certain tasks that are best left for your employees. While these are likely also important, there's only so much time in a day, and as manager, you need to be able to prioritize. Once you've reviewed everything, create a list that can be delegated to your staff. This will help you remain organized throughout this process.
After you've decided what needs to be done, you'll need to select the appropriate employees. A significant part of this is competed during the hiring process. It should go without saying that in order for your company to succeed, you need to hire the appropriate staff. Your employees' values should mirror those of your company, and ideally they will care about the company's success as much as you do. Upon hiring "best-in-class" employees, you can then delegate specific tasks to specific employees based on everyone's individual talents and strengths.
Trust is very important throughout this process. You need to be able to trust that your employees will get the job done efficiently and correctly, and your employees need to know that you trust them in order to have the confidence to complete their responsibilities.
Manage your own expectations. Remember that you've been doing this for longer than anyone else, and you know your company better than anyone. Thus, your employees will need some time to learn, and they'll likely make a few mistakes along the way. Try to be understanding; it will prove to be beneficial in the end.
On that note, it's your responsibility to provide effective training. Make sure that your instructions and expectations for each task are crystal clear. After all, if you aren't able to explain how you want things done, it's unreasonable to expect your employees to have a clear understanding of the tasks.
Check in with your employees regularly so you can ensure that everyone's on the same page. By communicating frequently, you can also ensure that no one has started to complete a task incorrectly. This will also provide plenty of opportunities for your employees to ask questions.
In addition to providing clear expectations, set deadlines (and make sure that everyone is aware of them). This will help you company to remain focused and organized.
When you're delegating a task, make sure your employee has the necessary authority to complete that job. It will only lead to frustration (not to mention failure to complete the task at hand) if you give your employee at job without the authority to complete it properly.
Give your employees plenty of credit (both publicly and privately) for doing a god job. This will raise employee morale (across the entire company), and it will also provide incentive for all of your employees to work hard and do their best. Everyone likes to receive praise.
Bottom Line: If you refuse to learn how to delegate tasks effectively, your company will never have the opportunity to grow to its full potential.