Business Travel - On the Road Again?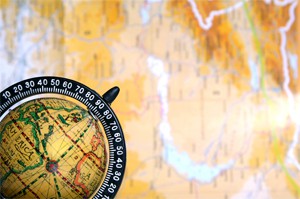 The traveling salesman is pure Americana. It's about as classic as hot dogs and apple pie will allow. Almost every aspect of our society is infused with sales and has been for generations. But the boom of the 1990's World Wide Web opened a new way for massive amounts of consumer sales to be accomplished without clocking hundreds of hours a year on the road each year building, expanding, andmaintaining company/client relations.
Changing Times
Arthur Miller's classic 1949 movie, "Death Of A Salesman" may very well require a 21st Century sequel called, "Birth Of A Laptop" considering the growing consumer confidence in online affairs while conducting business. So, how important is face-to-face interaction vs. online customer interaction? Though the types of products being sold and salesmen (business men) have changed from the door-to-door vacuum guy to cloud-based services, the fact remains the same; sales are needed in order to create a profitable business. However, the vehicle for business is changing and may very well require less and less drive time to get you to your sales-driven profit finish line.
Stats
According to the Business Insider, consumer giant Amazon is hiring a large number of sales reps for their Amazon Web Services; the enterprise arm that sells computing power over the Internet to other companies. Also, it doesn't hurt that Amazon is hiring and retaining its sales force, something companies such as Oracle and Sales Force have not yet duplicated. While companies like Amazon have the big dollars to almost go by name alone, smaller businesses still may require a personal touch.
So where and when do face- to-face interactions come into play? In online vs. offline sales, outside vs. inside sales roles, Bloomberg says "Companies from software and health-care providers to manufacturers are radically remaking that model, shifting from expensive field staffs to more cost-efficient employees who use phones and computers to reach customers. Inside selling, which keeps pitchmen off the road, is growing far faster than in-person sales, and by some estimates is ten times cheaper. " Steve Richard, co-founder of Vorsight; a sales training company whose customers include Verizon Communications and Rosetta Stone says his data shows, "For every one person hired today for an outside sales role, ten are being brought on for inside sales. It 's absolutely shifting," he says.
In its most recent outlook on job growth released in March of 2014, The Bureau of Labor Statistics says, "The U.S. will add about 1.9 million sales and related positions by 2020, including at the retail level." The report said, "Wholesale trade and manufacturing will require about 223,400 additional representatives alone." Although distinctions between online/offline and inside/outside sales are not reflected in the study, it's pretty easy to spot which way sales are accomplished is trending.
Deciding On The Right Approach
So, for the pavement pounder, the game is seriously changing, and fast. With the online market becoming more and more cost-effective, the role of the energy overloaded sales person with a smile and a handshake, pushing a product may be approaching the closing round. However, "Mom and Pops Shops" still do exist and many still need the traditional salesperson, traveling or otherwise to secure a loyal consumer base by developing business relationships that simply cannot be accomplished via email. Thusly, the personal approach to sales is still not only effective but in some cases, critical to the survival of some small businesses especially depending on the region and the product or services being pitched.
Bottom Line: Business is business, and finding a balance between logging road miles to drive sales or logging on to the Internet really comes down to the specifics of your business model. Either way, the driving force has been and will always ultimately be you.